Guzmania is a popular genera of bromeliad. Their colorful flower bracts can be found in shopping malls, conservatories and many other plantscapes as well as kitchen tables and office desks. While they are a popular in public indoor spaces they grow naturally from Florida to Brazil. They are particularly common in Costa Rica and Columbia.
The genera Guzmania is named for a a Spanish naturalist Anastatsio Guzman. Guzman traveled throughout South America extensively and died while on an expedition in Ecuador in 1807. A short time after his death colleagues named the genera of bromeliad in his honor.
1. Guzmania lingulata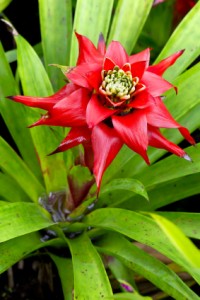 The Beautiful Guzmania lingulata
Guzmania lingulata is one of the most popular species of Guzmania. Its common name is the scarlet star. The scarlet star has long, glossy, flat, green leaves that do not have any spines. The leaves come together to form a star shape in the middle. Perhaps Guzmania lingulata  is most famous for its brilliant pink or red flower bracts, but also can be found in shades of yellow and orange depending on the variety. What appears to be the flower on the plant is actually a grouping of modified leaves, called bracts. These bracts can last for a very long time. The true flowers are white and do not rise above the bracts. These flowers last 2-4 months. Guzmania lingulata is an ideal indoor or office plant. They survive well in low light conditions and tolerate artificial light well. They cannot be exposed to intense direct sunlight. The plant can grow as tall as two feet and as wide as two feet.
2. Growth Habits
Most Guzmania are epiphytic meaning they use their roots to attach to a host plant such as a tree rather than grow in the ground. Epiphytes do not cause any damage to their host. Because of this characteristic Guzmania can be mounted on a substrate or planted in a pot. Guzmania roots act primarily as an anchor rather than a source for water and nutrients. If Guzmania roots that are planted in a potting mix remain too soggy they will easily succumb to root rot. There are several ways to avoid this problem. Use pots and potting medium that is porous allowing air circulation and proper drainage. You can purchase potting media specifically designed for bromeliads or you can mix your own using ingredients such as peat moss, vermiculite and bark.  Guzmania can also grow with its roots attached to large sticks, driftwood or other substrate and then buried in peat moss. Above all, to avoid root rot, do not overwater. Let the potting mix dry a bit before adding more water. Also note that Guzmania are usually top heavy so be sure to anchor your pot well with heavy rock on the bottom.
3. Water
Guzmania take in water through their leaves in addition to their roots. Keep water in the cup or the space where the leaves meet toward the base of the plant. Never put water in the bracts or flowering portion of the plant. It will shorten the life of the flower. Make sure to rinse the cup regularly to avoid build up of minerals found in the water and disease. You can also use rainwater or distilled water to fill the tank. This will eliminate any salt build up on the leaves.
4. Temperature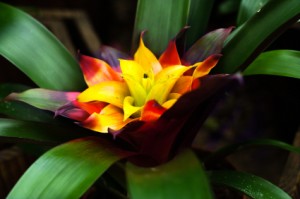 Red and Yellow Burst of the Gunmania Bromeliad
Because Guzmania are native to tropical areas they prefer warmer temperatures and humidity. Guzmania should not be allowed to stand in temperatures lower than 60 degrees Fahrenheit and prefer temperatures between 70 and 80 degrees Fahrenheit. They will fail to thrive if the temperatures remain above 80 degrees for an extended period of time.  Guzmania also like humidity. Be especially careful during the winter not to let your Guzmania become too cold and dry. This can be difficult when using central heating. If it is near a window make sure the temperature is as warm as the rest of the house and there are no drafts. To increase humidity place the Guzmania near other plants or in parts of the house that are naturally more humid such as the bathroom or kitchen. If your house is very dry consider using a humidifier. Bipolaris sorokiniana or sac fungus can cause problems if conditions are not kept ideal for the Guzmania.
Like all bromeliads Guzmania flowers once usually with a very long-lived flower and then begins to die. A healthy plant will produce pups before it dies. They can be removed from the plant and transplanted to their own pot or they can be allowed to grow in clumps attached to the mother plant.
4. Pests
The Guzmania does not suffer from many pests especially when grown indoors. However, a Guzmania that is not kept at ideal temperatures and humidities can be more susceptible to root rot, mealy bugs and aphids. To avoid insect pests keep the bromeliad separate from any new bromeliads in your collection for about three weeks. This will give you time to inspect your new plant for invaders. If you find mealy bugs or aphids on your plant the best solution is to manually remove them and wash the plant well to remove any eggs.  Plants grown outdoors in Florida may be susceptible to the Mexican Weevil. The Mexican Weevil is an exotic invasive species that has few natural predators in Florida and is very difficult to control. The larvae of the weevil eat important growing tissue and are very destructive to the plants.
5. Species
There are many species of Guzmania besides lingulata The Florida Council of Bromeliad Societies' Bromeliad Photo Index lists 135 different species and 348 cultivars. Guzmania come in many shapes, sizes and colors. The following are just a few examples.
The Guzmania zahnii has green, glossy leaves that droop downward. Some varieties have variegation down the middle and others have horizontal banding on the leaves. It has red bracts and yellow flowers that rise above the plant on a spike.
The Guzmania sanguinea has long, broad, flat leaves that cascade over one another and bend toward the ground. The bracts are bright red and become yellow or orange as they near the center of the plant. This plant is wider than it is tall.
At Plantscape Designs Inc. we always design with numerous cultivars of guzmania in our interior office landscapes in Bedford, MA.
PDI of Massachusetts has been providing green plant service for over 48 years to the following areas:
Boston, MA

Cambridge, MA

Wakefield, MA

Woburn, MA

Peabody, MA

Wilmington, MA

Tewksbury, MA

Methuen, MA

Needham, MA

Andover, MA

Dedham, MA 

 

Andover, MA

Concord, MA

Acton, MA

Westford, MA

Chelmsford, MA

Billerica, MA

Burlington,MA

Bedford, MA

Lexington, MA

Wellesley, MA

Watertown, MA

Lynnfield, MA

Danvers, MA

Saugus, MA

Beverly, MA

Salem, MA

Reading, MA

North Reading, MA

Marlboro, MA

Southboro, MA

Northboro, MA

Stoneham, MA
After Millions of Years in Development, the latest iteration of THE LIVINGPLANT™ is
DESIGNED PERFECTLY TO OPTIMIZE  HUMAN PERFORMANCE
"Wow what a difference in our office with live green office plants and monthly flower rotations by Plantscape Designs Inc.

It is much more pleasant to work here now. The office internal air quality has gone up as well because of these dozens of green plants filtering out carcinogenic airborne chemical emitted from photocopiers, carpet adhesives and chemicals released from wall and ceiling paints."

Francis Redmond
facilities manager
Fujii Film
Bedford, MA
Complimentary Reception Desk Flower with every Plant service proposal
Plantscape Designs Inc shall drop off a complimentary  Flowering Plant for your Corporate Reception Desk with Each free interior office plant design Proposal for the month of May 2021.

When we think of adding a colorful accent to our indoor office plants we often think about cut flowers or a flowering potted plant. Actually there is another option. Tropical foliage plants that have beautiful colored leaves. If your office has the right conditions, bright light and warm temperature, there is an unlimited selection of plants that have colorful foliage and variegated leaves. Crotons, Cordyline, Rex begonias, Stromanthe are just a few that can brighten your office with some color. We use many of these on locations in the Boston metro area. Colored leafy botanicals have unlimited plant possibilities. 
Brian Guilfoyle contact 781.632.4475
OWNER
www.pdiplants.com